Contents
---
Electronic Articles and Journals
The University of Toronto offers access to a number of e-journals through publishers, vendors, and aggregators. Each subject guide shows some specific databases. If you are using generic platforms, here are some tips:
Finding Electronic Articles and Journals via the UTM Library homepage
Check out our PDF and video guides below if you need help searching the UTL catalogue for electronic articles or journals:
Articles:
Journals:
UTL Proxy
In off-campus settings, you might not be able to read and download an article. In this case, try pasting http://myaccess.library.utoronto.ca/login?url= in front of the URL.
If UTL subscribes to the journal, you will be asked to login using your UTORID. You will be able to access the journal's content if we subscribe to the journal. You can also check if the library subscribes to a journal by searching our catalogue. For the further information, visit:
Google Scholar
Using Google Scholar to find content for your syllabus? Check out the tips below:
Be mindful that Google Scholar retrieves information not only from books and peer-reviewed articles (Published Versions of Record and Accepted Author Manuscripts), but also pre-prints, conference proceedings, white papers, theses and dissertations and more.
Change your Google Scholar settings so that it recognizes you as a UofT user. See the "How to" instructions below to connect Google Scholar to the library's resources. Changing your settings will allow you to see the full-text of articles if the Library subscribes to the journal.
Confirm that UofT has an ebook or subscribes to a journal by searching our catalogue or contact your liaison librarian.
When you want to use Google Scholar to find articles published by JSTOR, enter site:jstor.org with your keywords. If you want to search articles published by Project MUSE, enter site:muse.jhu.edu after your keywords. Similarly, if you want to find articles published by Cambridge Journals, enter site:cambridge.org after your keywords.
Use Ulrich's Periodical to confirm that a journal is peer-reviewed. For instructions on how to use Ulrich's, check out our video and print guide.
How to configure Google Scholar to have it recognize you as a member of the UofT community
If you don't see Get it! UTL when you are off-campus using Google Scholar, connect Google Scholar to our Library resources in order to read and download articles without paying unnecessary fees. Remember that the University of Toronto Libraries have already paid subscription fees for most of the articles.
To link Google Scholar to the University of Toronto Libraries, see the instruction below.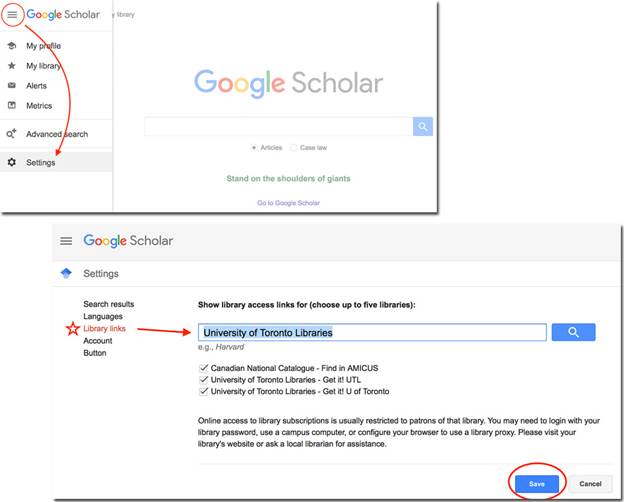 Ebooks
The University of Toronto Library System offers the largest ebook collection in Canada. Below are tips on how to find ebooks:
Ebook Platforms & Collections
Browse our ebook platforms and collections directly from publishers' and vendors' pages:
The collection focuses mainly on recent publications (2012 to present).
If you cannot find a particular ebook, please contact your liaison librarian. If an ebook is available via ProQuest Ebook Central or EBSCO, it will become available within 1-2 business days.
Finding Ebooks, using the University of Toronto Library catalogue
Downloading Readings from an Ebook
This video focuses ProQuest Ebook Central because electronic readings often come from this platform. It may not be user-friendly until you get to know how to use it. The video link can be shared with students in Quercus.
Research Methods, Handbooks, Videos, Bibliographies, etc.
These references sources provide concise and scholarly entries on a wide range of academic topics written by experts in that field.
If you cannot find particular encyclopedias, references, and handbooks, please contact your liaison librarian.
Oxford University Press:
Oxford Reference
Oxford Reference provides access to "digitized entries across Oxford University Press's Dictionaries, Companions and Encyclopedias."
Oxford Bibliographies Online
"Developed cooperatively with scholars and librarians worldwide, Oxford Bibliographies offers exclusive, authoritative research guides. Combining the best features of an annotated bibliography and a high-level encyclopedia, this cutting-edge resource guides researchers to the best available scholarship across a wide variety of subjects."
Oxford Handbooks Online
Oxford Handbooks Online provides access to a collection of handbooks that contain in-depth articles written by scholars in the Social Sciences and Humanities.
Sage:
SAGE Research Methods
SAGE Research Methods supports research at all levels by providing material to guide users through every step of the research process. The collection includes books, reference material, videos, case studies, and datasets.
SAGE Videos
SAGE Video showcases highly relevant educational video across key social science disciplines. Each collection includes a breadth of video types to support diverse research and learning needs. All videos are fully citable with searchable transcripts, custom clip creation and embedding.
Routledge:
Routledge Handbooks Online
Routledge Handbooks Online provides an overview of classic and current research from Routledge, and CRC Press, in the Humanities, Social Sciences, Education, Psychology, Engineering, and more.
Videos and Streaming Platforms
The University of Toronto Libraries offers access to films and documentaries on the following streaming platforms:
Numerous Titles are Available in both English and French from Studios Including: Paramount Pictures, Lionsgate Films, The Weinstein Company, Alliance Films, Warner Brothers, Miramax Films, and Mongrel Media. Browse the collection by subject or search using the title. Some titles may be restricted to on-campus viewing only. Be sure to check the Restrictions field of a title for more information.
To access, click on the blue Web link in the catalogue record. Kanopy is an on-demand video streaming platform that offers access to films and documentaries. If the title that the UofT does not have is available via Kanopy, please contact your liaison librarian.
Video streaming platform that provides access to a variety of content organized according to collection.
Canada's public film producer and distributor, the National Film Board of Canada (NFB) creates social-issue documentaries, auteur animation, and digital content, providing the world with a unique Canadian perspective.
Primary Sources for the Humanities & Social Sciences
There are a number of digital collections of primary sources that you can explore via the University of Toronto Libraries. The UTM Primary Sources: Digital Collections page shows them by region and by type. It also includes some of freely accessible online collections.
To see the list by vendor, please visit the History Resources at the UTM Library page and find primary sources by vendor A-Z.
Biblio Management Apps & Citation Styles
Blibliographic Management Apps
There are many Bibliographic Management Apps available to help you store, organize, and publish your references in a desired citation style.
Check out this Comparison Table to determine what works best for your needs.
Refworks
Refworks is supported by the University of Toronto Library. Search results from the Library Catalogue and most of its article database can be exported directly into a Reforks account.
APA Citation Style: Instructions and Examples
The Purdue Online Writing Lab provides the most comprehensive instructions and examples for using the APA Style:
Chicago Manual of Style
The University of Toronto Library System offers an e-version of the print version, The Chicago Manual of Style.
Notes and Bibliography:
If you need more examples, visit
Author-Date:
If you need more examples, visit
American Sociology Association (ASA) Style
IMPORTANT: A new edition of the ASA Style Guide was released in 2019.
OLD: For the 5th edition of the ASA (American Sociological Association) Style Guide, check out the UTM Department Sociology Guide and the Purdue OWL link below.
NEW: For the 6th edition of ASA Style Guide, check out the UTM Library's Quick Guide below.
Remote Access to Software for Instructors & Students
UTM Faculty, Staff, and Students can access a wide range of software for their courses using a Citrix Receiver downloaded to their Windows or Mac Computer.
For in-class use, please put in a ticket to consult with I&ITS Staff to address your needs, and check with the Office of the Registrar for room scheduling.
Software available includes:
| | | |
| --- | --- | --- |
| Anaconda Navigator | Google Chrome | MS Word |
| Antidote | GRASS | Mystat |
| ArcGIS (ArcMap, ArcCatalog, ArcScene) | IDL 87 | NVivo |
| Cdendro | Internet Explorer | Pyscrpter for Python |
| CooRecorder | Maple | RStudio |
| ENVI 55 | Mathematica | R |
| ENVI 55 + IDL 87 | MATLAB | SNAP |
| ERDAS ER Mapper | MS Excel | SPSS |
| ERDAS Imagine | MS Project | STATA |
| File Explorer | MS Visio | |
To access the Xenweb server, you first need to download and install the Citrix Receiver available from the "Computer Software" page on the I &ITS website. (Scroll to the very bottom of the page and select the operating system of your computer).
Once installed, you should see a Citrix Receiver icon among your programs. Log into Xenweb with your UTORid to access the software. Select the "Skip to Log in" option to Navigate to the Log In screen.
Citrix/Xenweb Installation Guide PDF.