Welcome to the University of Toronto Mississauga Library!
We invite you to visit us in-person and virtually to explore, gather, learn, and research, together with our team.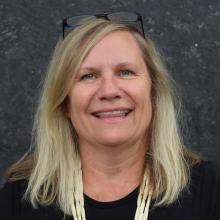 "Libraries today are no longer bound by traditional ideas or limitations, but rather use their knowledge and experience as a foundation for innovation, adaptable learning, and robust research.
Libraries must not be limited by their physical spaces, nor by their imaginations. They must meet the needs of all of their users and the surrounding community as they continue to adopt and embrace new ideas and challenges. Libraries must support and promote the values of equity and diversity and acknowledge the role that libraries play in the education and inclusion of our Indigenous communities. To thrive, libraries must connect users to resources and skills associated with accelerated globalization."
https://utm.library.utoronto.ca/sites/default/public/strategicplan2017_0.pdf
Paula Hannaford
Interim Chief Librarian
UTM Library
905-828-3888
paula.hannarod@utoronto.ca