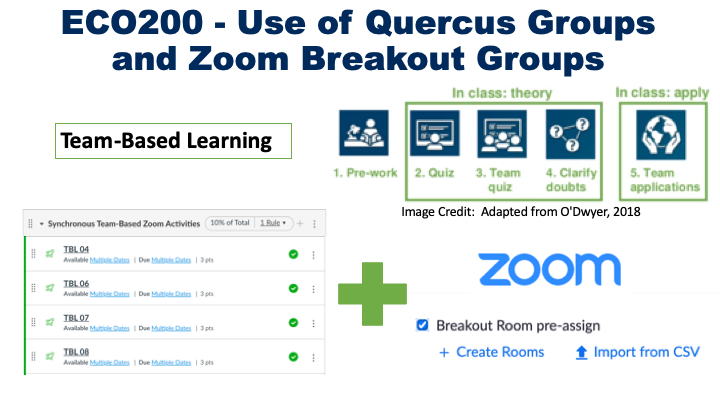 Course Information:
Course Information: ECO200
Department: Economics
Name of Course: Microeconomic Theory
Class Size: over 300 students (2 LEC9 sections, and 6 LEC8 sections)
Highlight: Enabling online group collaborations
Key Tools: UofT Advanced Groups, Quercus (Canvas) Group Assignment, Zoom
Introduction:
Lee Bailey, UTM Department of Economics, implemented group activities in a second year course to support online collaboration. This style of assignment was previously done in the Active Learning Classrooms (ALCs) with the digital whiteboards in MN1270 and DV during the summer semesters. A Team-based Learning protocol is used. Previously it was not possible to do this assignment in person as student enrollments were too large for ALC capacity. Zoom capacity for Meetings is up to 300 students and it is possible to have up to 50 breakout rooms and moving online meant that this type of assignment could be done in a larger online class with the use of the tools below.
Summary:
Every second class students participate in collaborative group activities for 10% of the final grade.
Before class:
Use UofT Advanced Groups to create Canvas Student Groups (40 groups of 4 students for each class) It will assign team members from the same lecture sections.
Create a Canvas Group Assignment (Lee used an Economics Problem) with answer to be submitted as File Upload to the Assignment.
Use UofT Advanced Groups to Export Canvas Student Group List as CSV file.
Changed "Group Name" to "Pre-assign Room Name" and change "Mail" to "Email Address", and deleted other columns.
Edit Zoom Meeting: Choose, Pre-assign Breakout Rooms, and upload the CSV (Lee needed to "edit all occurrences" to make this work).
During class:
Host can Send students to Breakout Rooms. Each student on a team clicks on Canvas Assignment so they can see the Problem.
One member Shares Screen and selects Zoom Whiteboard. Students collaborate to solve the Economics Problem. Some of the teams share an iPad screen which is fine too.
Breakout Rooms can raise their hand, the Zoom Host can go into the breakout room and help the students. Someone with co-host role can't.
Zoom Whiteboard can be saved as PNG or JPEG file and the student sharing screen submits this file to Canvas File upload assignment.
Once students return to the main room a Zoom Livestream solution to the problem is provided using iPad and Pencil.
After class:
Use Canvas Speed Grader to grade the group assignment. 40 group assignments took Lee about 10 minutes grading time.
Download Attendance from Zoom. Students who aren't there do not receive a grade.