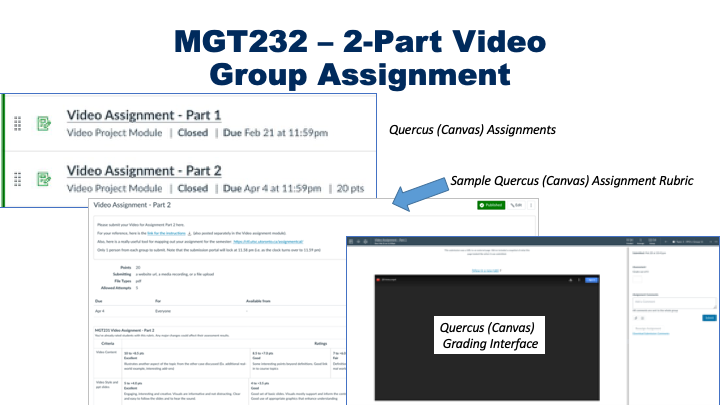 Course Information:
Instructor: Tanya Kirsch, Camille Hebert and Pat Akey
Department: Management
Course: MGT 231: Finance I & MGT 232: Finance II
Class Size: over 450 students (7 Lecture sections and 7 Tutorial sections)
Highlight: 2 part group video assignment

Key Tools: Quercus Groups, Quercus Rubric, Video Assignment, Zoom
Introduction:
Tanya Kirsch​, Camille Hebert and Pat Akey, from the UTM Department of Department of Management, developed a video assignment for students in their second year management courses. These types of assignments can provide students with an opportunity to learn and develop communication skills. A suggestion to support students is to provide technical scaffolding with a shorter 30 second / 1-minute video submission well before the main assignment is due so students can work out their technical process in advance.
Summary:
Students were put into groups by their selecting a preferred timezone via an additional question in their weekly quiz.
The Quercus Groups tool was used to allocate students to groups based on their indicated timezone preference, and then students used the Group Homepage area, specifically the Discussion tool, to make initial contact with each other.
A rubric was posted in Quercus which provided a guide for expectations, and was also used for grading.
Resources: