Your instructor may add you to a group or ask you to join one in Quercus so that you can collaborate with your classmates.
Your instructor may also ask you to complete a Group Assignment or engage in a group discussion in Quercus.
If you have been added to a group by your instructor than you can skip ahead to How to access your Group Homepage.
 
How to join a Self Sign-up Group
Below are instructions for joining a group if your instructor has enabled the self sign-up option.
1. Select People from your Course Menu.

2. Select the Groups tab.

3. Find the group that you would like to join and select the JOIN button.

You can also "LEAVE" the group or "SWITCH TO" another group if the group if it is not locked.


How to Access your Group Homepage
1. Select Groups from the far left Global Menu.
Note: The Groups menu item will only appear if you have been added to a group.
2. The Groups panel displays all of the groups you have been added to. Select a Group to visit the Group Home page.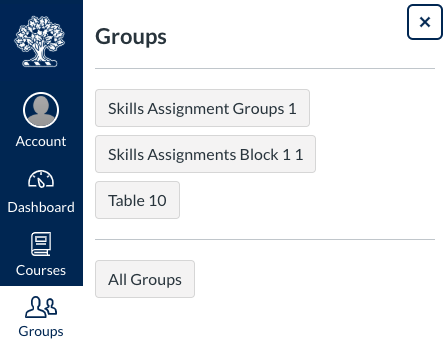 3. The Group Homepage contains a Group Menu with links to the Group Home page, Announcements, Pages, People, Discussions, Files, and Collaborations.

Note: For Self-sign up groups, you can return to the Groups tab and select the "Visit" link to access the Group Homepage, as shown in the image below.

Additional Resources