Your instructor may ask you to join a Zoom session for an online lecture, virtual office hours or for an assignment.
NOTE:  It is recommended that students only use computer audio for Zoom and not a telephone to avoid long distance charges.
The following steps will allow you to install, configure, and connect to the Zoom video conference tool.
Using the UofT Licensed Version of Zoom
Logging into the U. of T. Zoom Portal Using a Web Browser
Note:  Use the U. of T. Zoom Portal to set up meetings and to check your settings.
Use the UTM licensed version of Zoom by logging into the University of Toronto Zoom Portal from a web browser - https://utoronto.zoom.us and sign in with your UTORid and password at least 48 - 72 hours before your first Zoom session. An image of the University of Toronto Zoom Portal is below.
Downloading and Installing Desktop Client for Zoom
Note: Installation is only required when using Zoom for the first time. If you have already downloaded and installed Zoom, please skip to the "Launch Zoom Video Conference" section.
1. Visit the Zoom Download Center- https://zoom.us/download to download the latest version of the Desktop Client.
2. Run the downloaded file. The installation should complete automatically.
3. When prompted, enter the display name you wish to use.
Logging into Zoom Using the Desktop Client Application
Note:  Use the Zoom Desktop Client to start, join, and run Zoom meetings.
If you have downloaded the Zoom desktop application to your Apple or Windows computer,
Open the application. 
Select the Sign In with SSO button, as noted in the screenshot below.

Ensure that utoronto appears in the Your company domain  box and click on the Continue button.

Log in with your UTORid and password.
NOTE:  Ensure you have logged in via Single Sign On (SSO) in order to have access to the U. of T. Pro account features.  You can verify that you are using the licensed version of Zoom by clicking on the profile image in the top right-hand corner as noted in the screenshot below.  You should see
That you are using the Licensed version
Your name is listed beside the word Licensed
Your mail.utoronto.ca or utoronto.ca email address is listed below your name.
Please note:  It is recommended that you periodically select Check for Updates to ensure that you are using the most recent version of the Zoom Desktop Client.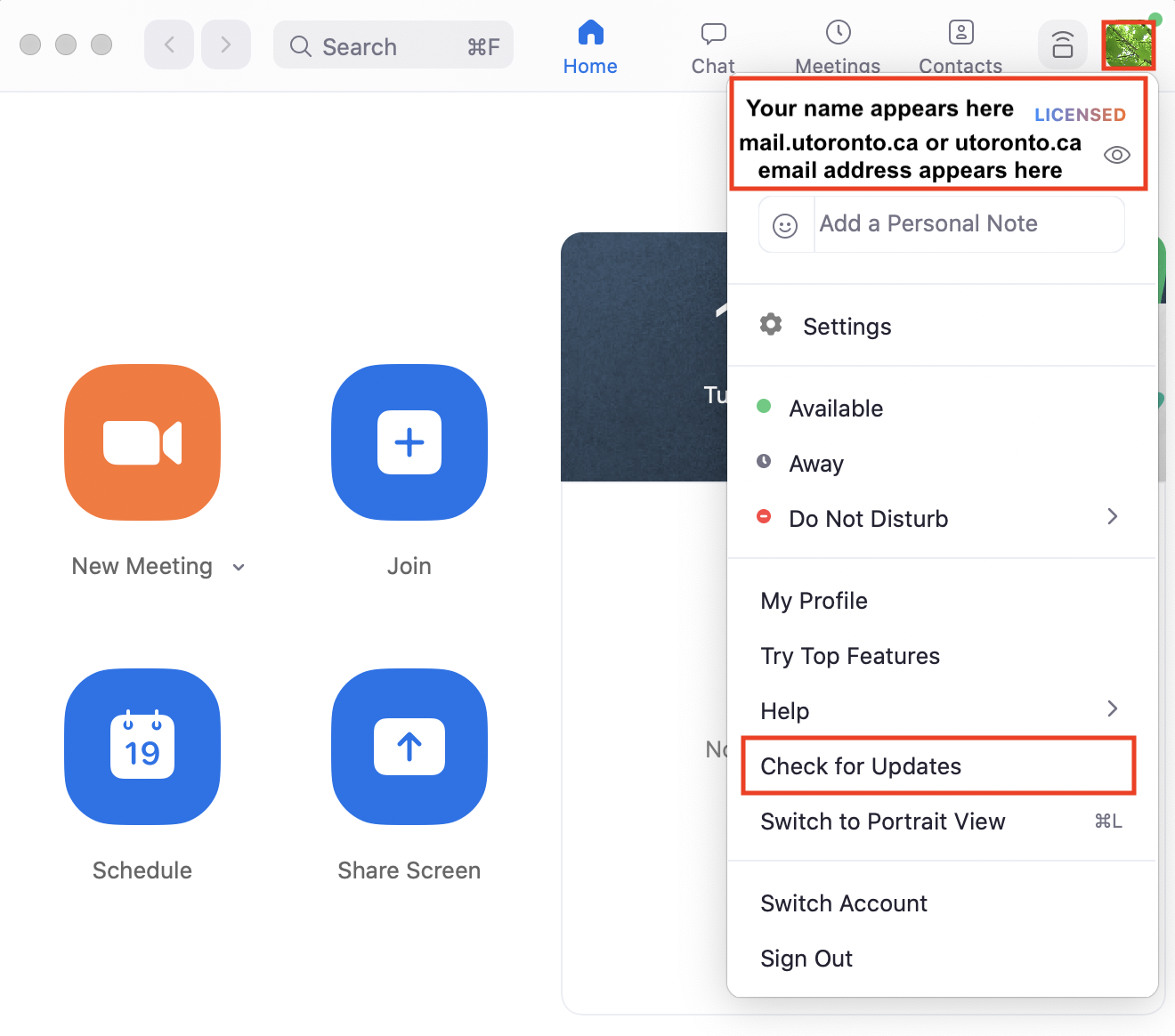 Launching Zoom
1. To join a video conference, click on the link provided in the invitation e-mail.
2. When prompted, use the Desktop Client and click "Launch Application".
3. Select either "Join by Computer Audio" or "Join by Phone".
Join a Meeting - Computer Audio
Note: While preferred, this option will require a microphone and/or webcam to be connected to your computer. Please do not use the Telephone Audio option as long distance charges may be incurred.
1. At the top of the window, select "Join by Computer" (it will be highlighted in blue) and press "Test Computer Audio".
2. Using the "Test Speaker" and "Test Mic" buttons, ensure that audio input and output are both responding correctly. * If one is not working, the audio device in use can be changed using the two drop down menus, followed by repeating step 2, to test the new configuration.
3. Close the "Settings" window.
4. Click the green "Join Audio by Computer" button.
Best Practices for Online Learning
Make sure that you are connected to a stable network connection, preferably a wired connection.
Have a good camera, microphone, speakers/headphones, but turn off your camera and microphone to assist with a better experience with lecture style sessions unless your instructors ask you otherwise.
Have your documents/files ready to share before your class starts.
Connect to the session a few minutes early to ensure connections.
 
Additional resources
UTM I&ITS Zoom Sign in with SSO:
https://uoft.service-now.com/utm_iits?id=kb_article&sysparm_article=KB0011942  
UTM I & ITS Zoom Index of Knowledge Base articles
https://uoft.service-now.com/utm_iits?id=kb_article&sysparm_article=KB0011068
For additional assistance with Zoom functionality and features, UTM students can contact the I&ITS Service Desk by submitting an Information & Instructional Technology Services ticket.
System Requirements for Mac, PC and Linux (Please see Bandwidth Requirements on this page)
https://support.zoom.us/hc/en-us/articles/201362023-System-Requirements-for-PC-Mac-and-Linux
Introductory videos for using Zoom
https://support.zoom.us/hc/en-us/articles/206618765-Zoom-Video-Tutorials