Table of Contents:
Open Access
UTM Library Services for the Tri-Agency OA Policy on Publications
---
Open Access
A Definition and Brief Background Information
In short, Open access (OA) refers to scholarly research publications that are available online to be read for free by anyone as long as readers have Internet access. It is important to underline that the copyright owners are the authors.
Similar definitions, but with a different emphasis, are available. For example, according to the Government of Canada, OA is "the practice of providing free and unrestricted online access to research publications and data. This greater access is expected to accelerate the progress of research, democratize access to knowledge worldwide, and ensure that publicly funded research is available to the public. Open access makes it possible for research results to have a greater impact and enables researchers, scholars, clinicians, policymakers, private sectors and not-for-profit organizations and the public to use and build upon this knowledge. Moving toward open access is a way to increase transparency, accountability and efficiency" (emphasis added).
Making scholarly publications accessible and findable encourages further investigation and innovation because new research is built based on analyses and/or results from previous research. However, paywalls are being used to restrict access to research publications. Without a university affiliation and library subscriptions, individuals have to pay for each article to read and download. These individuals include our alumni, community researchers, independent scholars, teachers, journalists, as well as clinicians and policymakers.
Even though academic libraries pay a substantial amount of subscriptions, the cost of individual articles is still expensive: for example, as of October 2018, 39.95 USD for some Elsevier journals, 38 USD for WILEY, and 42.5 USD (24 hours access) for Taylor & Francis. As of July 2019, the fee increased: 41.95 USD for some Elsevier journals, 42 USD for WILEY, and 50 USD (24 hours access) for Taylor & Francis.
Under this climate, research funders have created open access policies. The image below shows some examples:
Definitions of Different Versions
SUBMITTED VERSION (preprint or pre-print)
AUTHOR'S ACCEPTED MANUSCRIPT (postprint or post-print)
VERSION OF RECORD (publisher's version)
Please see the image below for different versions of a standard peer-reviewed journal article: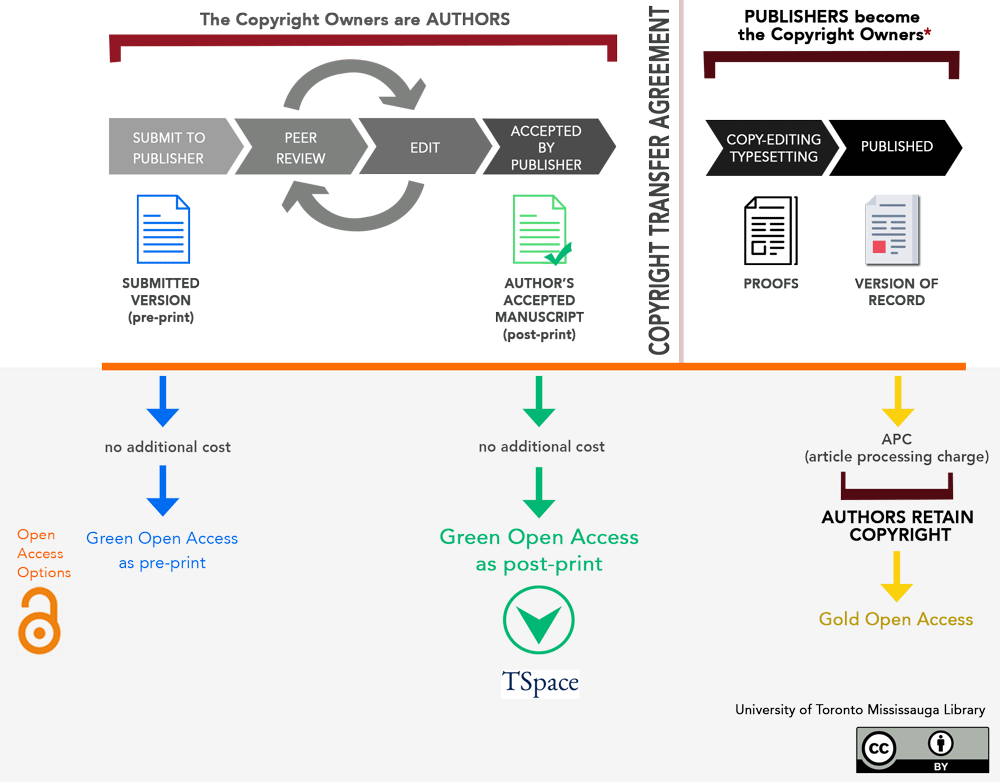 * We provide some suggestions so that authors might be able to retain some rights by negotiating with publishers before signing a standard publishing contract.
UTM Library Services for the Tri-Agency OA Policy on Publications
Summary of Tri-Agency OA Policy
Funder

Publication Requirements

Date Requirements:

All Grants Awarded

Are article processing charges (APCs) for publishing an eligible expense?

SUBMITTED VERSION

AUTHOR'S ACCEPTED MANUSCRIPT

VERSION OF RECORD

CIHR

Grant recipients are required to ensure that any peer-reviewed journal publications arising from Agency-supported research are freely accessible within 12 months of publication.

from January 1, 2008 and onward*

NO

YES

GREEN OPEN ACCESS through an institutional or disciplinary repository

YES

GOLD OPEN ACCESS

NSERC

from May 1, 2015 and onward

SSHRC**

from May 1, 2015 and onward
* For further information, please visit Frequently Asked Questions for Tri-Agency Open Access Policy on Publication.
** Check Changes to the Aid to Scholarly Journals Funding Opportunity (SSHRC, modified May 25, 2018)
Article Processing Charge (APC) Discounts
If you are looking for institutional discounts for APCs for Gold Open Access, please visit the APC Discounts page (Scholarly Communications and Copyright Office: St. George).
Self-Archiving using TSpace
The UTM Library provides services to UTM researchers to make their accepted manuscript open access (Green Open Access) using the University of Toronto institutional repository (TSpace). Visit Green OA Support @ UTM.
For further information, please contact: Yayo Umetsubo, UTM Scholarly Communications Librarian.
Relevant Links
UTM Library
University of Toronto Libraries (UTL)
Open Access (Scholarly Communications and Copyright Office: St. George):
University of Toronto Libraries
The Chicago Manual of Style Online (17th ed.)