The Gerstein, Robarts, and UTM Libraries have launched a Scan & Deliver pilot. U of T faculty, staff, and graduate students may request articles from print journals at these libraries to be scanned and delivered to their desktops via email.
To Submit a Request
locate the journal title in the library catalogue and click Options, then Request
for items in the periodical stacks at Gerstein, Robarts, or UTML, click Request Scan & Deliver (PILOT for Faculty, Staff, Graduate Students only), then Continue
log in with your UTORid and password
provide the citation information, including volume, issue, and page numbers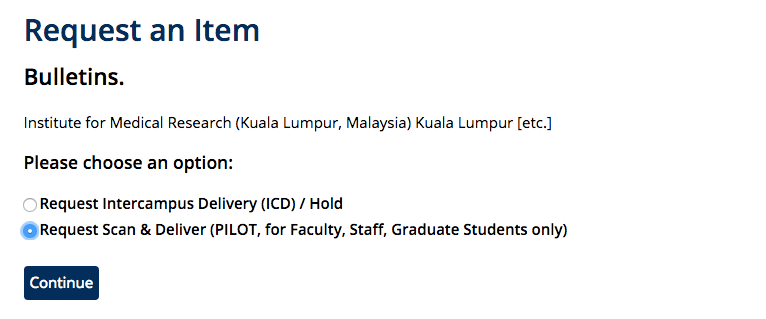 Once you submit a request, our staff will locate the item and scan and email it to you. You will receive an email confirmation. If an item is already available electronically, our staff will direct you to the link.
We welcome comments or questions about this service. For UTML queries, please contact Alison Campbell.