Catherine MacGregor, Finance Learning Centre (FLC) and Liaison Librarian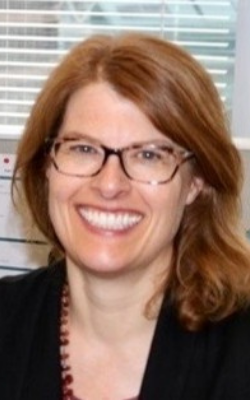 Catherine joined the UTM Library as the IMI Liaison Librarian in September 2021. She previously worked as a Knowledge Analyst with the Ontario Securities Commission and as a research librarian with the law firms Stikeman Elliot and Fasken Martineau. Catherine also worked for over a decade within the publishing industry, primarily in the area of contracts and rights management. Catherine holds a Master of Information (concentration in Library and Information Science) from the University of Toronto, an Honours Bachelor of Arts degree in English Literature from York University and another Bachelor of Arts in Political Science from McGill University. She has obtained her CSC designation and completed a certificate program in Canadian copyright law.
Email: cat.macgregor@utoronto.ca
Phone: 905-564-4654
Contact Catherine for:
Reference and research consultations
Course support (in-class instruction, custom workshops, Quercus) for the Departments of Management and Economics, IMI's graduate accounting programs and the Minor in Business, Science and Entrepreneurship program, and ICUBE.
Collection development for economics and management
FLC communications (social media and website)
FLC Student Assistant Program
Maria Ruiz, FLC Reference & Research Specialist
Maria joined the University of Toronto Mississauga (UTM) Library and the Li Koon Chun Finance Learning Centre (FLC) after working as a Career Outreach Assistant (2018-2020) at the UTM Career Centre. Prior to her role in the Career Centre, Maria was an essential member of the UTM Library GSRA team from 2015-2017, working as part of the reference team, as well as completing special projects in the FLC. Maria has a Master of Information from the University of Toronto, and a Bachelor of Arts from UTM.
Email: maria.ruiz@utoronto.ca
Contact Maria for:
Research and software help
Information about FLC resources and services
FLC communications (social media & communications)
FLC workshops
FLC bookings (events, meetings, and workshops)
Helen Kula, Head, Research and Instruction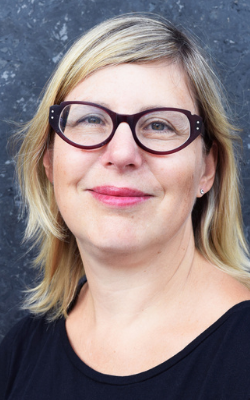 Helen joined the University of Toronto Mississauga Library and the Li Koon Chun Finance Learning Centre in 2013. She was previously a University of Toronto librarian cross-appointed to MaRS Discovery District, where she worked at MaRS Data Catalyst and as a senior member of the MaRS Market Intelligence team. Helen began her career as a professional librarian at the Rotman School of Management's Milt Harris Library (formerly Business Information Centre).
Email: helen.kula@utoronto.ca
Contact Helen for:
FLC and Library support for the MMI and IMIx programs
Policy- or planning-related questions about the FLC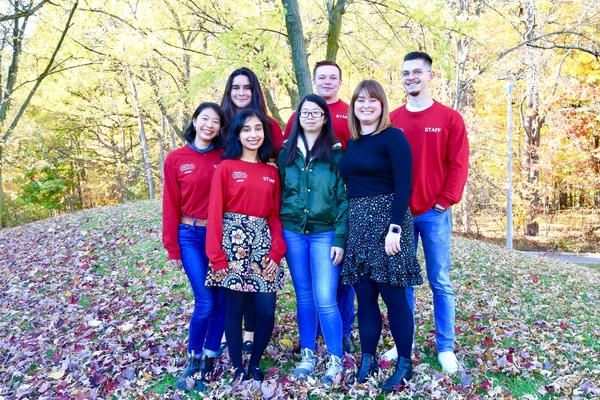 Former IMI Liaison Librarian Catherine Fournier-Boulianne with members of the 2019-20 FLC Student Assistant team. Photo credit: Nelly Cancilla.
The FLC typically hires 4-6 student assistants every year to help with the day-to-day operations of the lab, answer student questions, and special projects as needed.
The FLC remains closed as a physical space in response to COVID-19. As a result, our hiring plans are uncertain at this time. To indicate your interest in future employment opportunities with the FLC, please email utm.lkcflc@utoronto.ca with your name, your program of study and expected graduation date, and your University of Toronto email address. We will contact you when jobs are posted.