You may be required to submit a written assignment via a Quercus course.
Your instructor can request that you type your written assignment directly into a text input box on the assignment page or ask that you attach and upload a file (such as a Word .doc or similar).
Submitting an Assignment in Quercus
Below is a video containing instructions for submitting an assignment in Quercus.
**NEW - As of March 31, 2021
For the initial assignment submission: the button previously labeled Submit Assignment will now read Start Assignment.
For assignments that allow multiple submissions: for subsequent submissions the button that previously read Re-submit Assignment will now read New Attempt.
The functions of these buttons remain the same.
For detailed instructions on how to submit an assignment in Quercus, follow the link below to the Canvas Community Student Guide
Submit a Quercus assignment

Notes:
Your instructor may use the Submission Reassignment feature to provide comments on your submission and re-assign the assignment to you. The assignment will re-appear in the List View on the Dashboard with the instructor's feedback and you can resubmit the assignment for additional feedback from your instructor.
If you are required to use your webcam for a file upload assignment, you will be prompted by your browser to give permission to use your camera.
Confirming your Submission
You should see confirmation that your submission has been received, as pictured below.

If you encounter the error message below - Submit Failed, please try again, please check your Internet settings and retry submitting by selecting the Submit Assignment button.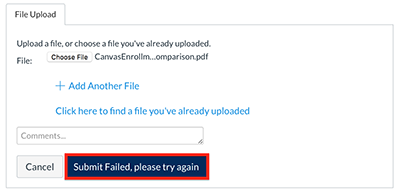 More information can be viewed on the Viewing Grades and Feedback page.
Help with technical issues
If you encounter a technical problem while uploading your assignment, please inform your instructor as soon as possible and as well provide the information below using the Report a Problem with Submitting an Assignment in Quercus for Students UTM Service Portal form.
As well, the Canvas Student mobile app should not be used for any high-stakes activities such as submitting assignments or quizzes—important tasks and assessments should be completed on a desktop or laptop computer instead.
If you experience a technical problem while submitting an assignment from a computer on campus, please also provide:
Location of the computer (e.g., Library electronic classroom, Library information commons)
Number on the computer (e.g., LIBPC-12) which is located on the monitor of the computer being used
If the technical issue was related to Internet connectivity while at UTM Campus, students are asked to contact the UTM I&ITS Service Desk – https://www.utm.utoronto.ca/iits/ as soon as possible.
Embedding a Video in Quercus


Below are instructions for embedding a video into a Quercus page Discussion Post, Assignment or Quiz Entry using the Rich Content Editor

1. In the Rich Content Editor box, click on the vertical 3 dot menu;
2. Click on the cloud icon.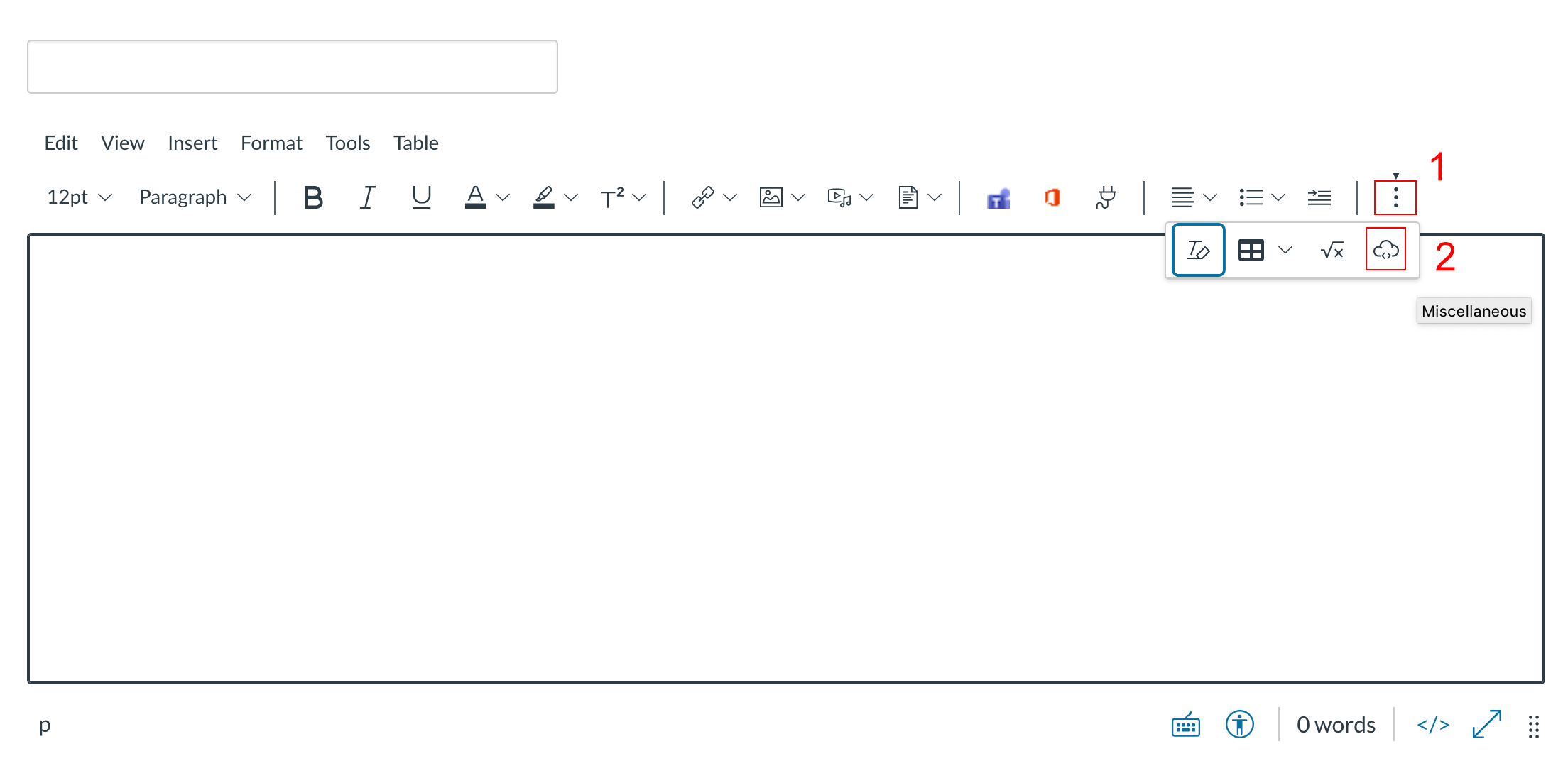 3. In the box that appears, paste the embed code for your video in the Embed Code field.
4. Click on the Submit button.



Language Settings
Adapted from the UTM Department of Geography, Geomatics and Environment: Unless otherwise instructed by your instructor, please make sure that your language preference on Quercus is set to English (Canada). To check this, on Quercus at the left-hand side of the site go to: Account --> Settings --> Edit Settings (button on the right-hand side) --> Language dropdown menu should be set to System Default (English (Canada)) then click on the Update Settings button.
Note: Also please make sure to disable translation tools (such as Google Translate) in your browser's tool bar.
===
The UTM Student Test Practice Module is intended to serve two purposes: 1) help UTM students access campus resources that can help them prepare for online assignments / tests; 2) provide UTM students with an opportunity to practice online assignment submission / test-taking skills. It was developed together with a number of UTM campus partners to support students.
UTM Students can access this UTM resource using the link below. Select the Enroll in Course button and following the instructions to self-enroll:
https://q.utoronto.ca/enroll/7EJKWJ
Additional Resources