By default, students will receive an email notification for each Announcement. However, students can turn off the notification option in their Account Notifications settings.
Step-by-Step Instructions for Creating an Announcement
1. Select Announcements from the course navigation menu.

2. Click on the + Announcement button.


3. On the next page, you can type your announcement using the rich content editor. If needed, you can insert images, embed media such as video, and add links.
4. In the Post to section, you can post to a specific section of the course (if your course has been cross-listed).
5. Under the text editor box, you'll have the option to:
- Attach a file. Note: These files will be automatically added to the Files section of your course.
- Delay the posting of the announcement.
- Enable a podcast feed.
- Allow "liking".

6. Click Save to post the announcement.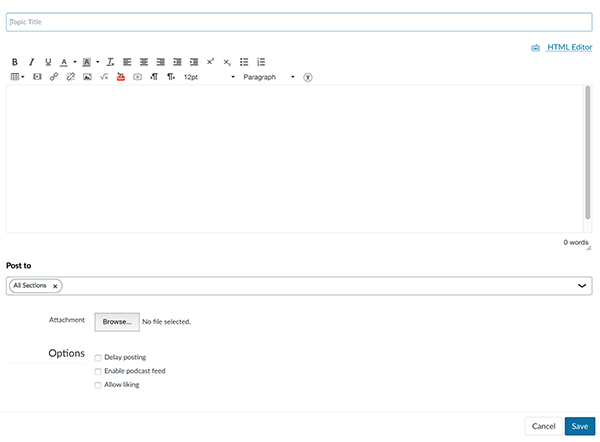 Note: By default, students cannot comment on Announcements made by Instructors. To change this option so students can reply to an announcement, you would need to uncheck the "Disable comments on announcements" tick box found in course Settings in the Course Details tab under "more options".
Add Recent Announcements to the Home Page
Provides the most current announcement information at the top of the course Home page.
Can be used to gather student feedback (e.g., likes) and to link to relevant course content.
Assists with communication regarding events and activities.
Note: This should only be used if you create Announcements frequently and consistently.

Examples:
| | |
| --- | --- |
| Environmental Studies | UTM Library |
| | |
Instructions:
To include Recent Announcements at the top of Home:
Click on Settings in the Course Navigation Menu.
Click on more options at the bottom of the page.
Select the Show recent announcements on course Home page checkbox and use the drop-down menu to indicate the number of recent announcements that should be shown.
Select Update Course Details.
Add Recent Announcements to Home - Video (35 s)
Credits:
Barb Murck, ENV311H5, Environmental Studies
UTM Library, Instructional Technology