Below are instructions for embedding a video into a Quercus page.
Step by step Instructions for Embedding a Video into a Quercus Page
1. Click on the Pages link in your course menu;
2. Click on the + Page button (if you have already set a Page to be your course Home Page then you will need to first click on the View All Pages button);
3. Enter a name for the Page;
4. In the Rich Content Editor box, click on the Insert/edit media icon;

5. Click on the Embed tab and paste the embed code (if inserting a YouTube video you can obtain this code by clicking on the "Share" link.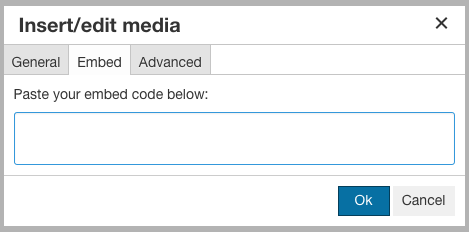 Videos for Students
Please feel free to share the videos below with your students. We have provided links to the different videos and the embed code required to insert the videos into the Rich Content Editor that is used when creating a Quercus Page, Announcement, Assignment, Quiz, Discussion or Syllabus.